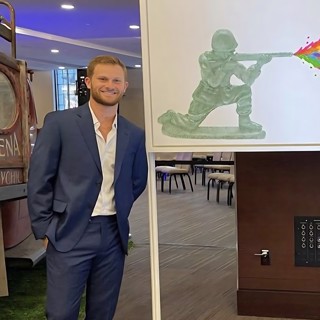 SCULPTURE LIKE 3-D ACRYLIC ON CANVAS
TORONTO, CANADA / NASSAU, BAHAMAS
Jonah Waterous was born in Canada in 1996 and raised in the Bahamas where he currently lives and creates from his studio. Jonah attended Queens University where he completed his degree in Sociology. During his time in University, Jonah began working under his mother, world renowned artist, Jane Waterous. As a protege, he learned all aspects of the creative process and began branching off to form his unique style; what he calls "dotilism". Jonah meticulously hand paints thousands of three-dimensional dots onto the canvas that creates lifelike texture and the illusion of movement as light bounces from seemingly endless dots of colour. Jonah's works are inspired by his childhood. Growing up in the pristine environment of the Bahamas, Jonah became an accomplished free-diver and scuba diver, allowing him to become closer to nature. Jonah's breakout series, the "Swarm" collection highlights the unseen detail in the natural world and the power of dotilism.
Focusing on the smallest of living things, Jonah's "Lovebug", "My Lady", and "Honey" are all miniscule insects that Jonah has scaled up to be larger than life. Using over 200,000 dots per piece, Jonah is able to magnify their texture and bring them to life on a scale that exceeds the bounds of nature. Jonah's second series, "Love Notes", are multimedia works inspired by his strong connections to home, family and friends. His signature dots blanket the canvas forming hearts, which surround a written message of love. Using dotilism, Jonah transforms our thinking of what the traditional love letter could be by creating immense texture that amplifies the messages of endearment, whatever it may be. Jonah's latest sculpture series are his playful way to symbolize his curiosity for the extreme.
Avoiding danger is a natural instinct yet, humans strap themselves to rockets bound for the moon, drive motorbikes at 200 mph, and dive to the deepest depths of the ocean. Perhaps these characters are not human at all? Jonah's characters represent the evolved outliers who expand our human potential. Each character is adorned with a helmet that he uses as a symbol of the real tools we use to push our physical limits. Jonah's use of color and mirrors allow the onlooker to become that character, and perhaps, inspire their evolution and unlock their potential.
Read More
Recently Sold Pieces (COMMISSIONS AVAILABLE)